Please Note: For those looking into a yoga teacher training program with Yoga Alliance accreditation. The Yoga Alliance has announced new standards for teacher training programs. We at Just Breathe Yoga Studio have reviewed these new standards which go into effect next year and are please to let those looking at our program that we are already in compliance with the new standards with our current program, reassuring that we have a high standard to our training program. This includes the level of lead trainer we have as well and her continued committment to continuing her own education. Going forward only E-RYT 500 level instructors many be lead trainers. Nicole has been at this level with her training and experience for 3 years now and continues to add to her training and teaching hours. If you have any questions, please do not hesitate to inquire at JBYS or with Nicole for clarification to these changes.
The Natural Breath
Yoga Teacher Training Program
(RYT-200) 
Qualify for Yoga Alliance Certification
Facilitated by Nicole Hayman-Sherman E-RYT 500. Nicole is a Registered Yoga Teacher (ERYT500) as well as registered children's yoga teacher (RCYT), registered prenatal yoga teacher (RPYT) a certified meditation teacher and a Yoga Alliance Continuing Education Provider (YACEP).   With over 40 years of yogic practice, Nicole has had the opportunity to experience various styles of yoga, including: Hatha, Iyengar, Power, White Lotus, Bikram, ISHTA, Kripalu, Vinyasa, Restorative and Yin.  This EXTENSIVE experience gives her the ability to guide and train individuals and her passion and dedication to yoga's availability to ALL is what she brings to her teacher trainings.
Regular Tuition is $2500.
Special & Early Bird Discounts
Please Note: Payment plans can be arranged. 
Space for YTT IS limited, to keep a small & intimate group.
Next training April-September 2020. 

What Our Graduates have had to say about our program:
A great training program and great instruction. I am glad that I took my RYT200 training at Just Breathe Yoga Studio. I feel 100% prepared to step on my mat and begin leading others in their asana practice.

I am honored to have been a part of Just Breathes first YTT!

I am so happy I took the 200 hour Yoga Teacher Training at Just Breathe Yoga Studio. Not only was it extremely convenient for me but Nicole taught us at a level that suited everyone. The studio has such a positive environment and is so inviting. Whenever something wasn't clear to us, Nicole extended herself for support and extra time reviewing/explaining. We were fortunate to have a group of 6 fabulously inspiring ladies that were experiencing spiritual growth together and hold an everlasting bond as a result. Deepening my own practice is allowing me to confidently share what I've experienced with students. This was an amazing journey!

The training was challenging and rewarding at the same time. Nicole had a unique style of teaching that allowed you to learn the material with confidence.

Although 3 month intensive training, I gained great hands-on teaching experience I can't expect more from Nicole (our YTT instructor). In addition, students and other instructors are very supportive and encouraged YTT trainees. This is fantastic environment for any new instructors like us. Again, I can't expect any better setting than Just Breath Yoga Studio YTT around this area.
Nicole was always readily available, either teaching or at the studio.  

I am an older student, now teacher, and Nicole never pressed me to go beyond my limitations. She was patient and very knowledgeable. I would highly recommend this training program and Nicole. The studio has a very welcoming atmosphere and I intend to take continuing education classes from Nicole.

This was a very intensive 12 week training program. Nicole covered all areas in depth and with great understanding. Her insight and knowledge into the Whole Yoga world was amazing. I would highly recommend Nicole as a yoga teacher.  

I would highly recommend Nicole and Just Breathe Yoga Studio for someone wanting to obtain their teacher certification. Nicole also offers continuing training and workshops that are very helpful.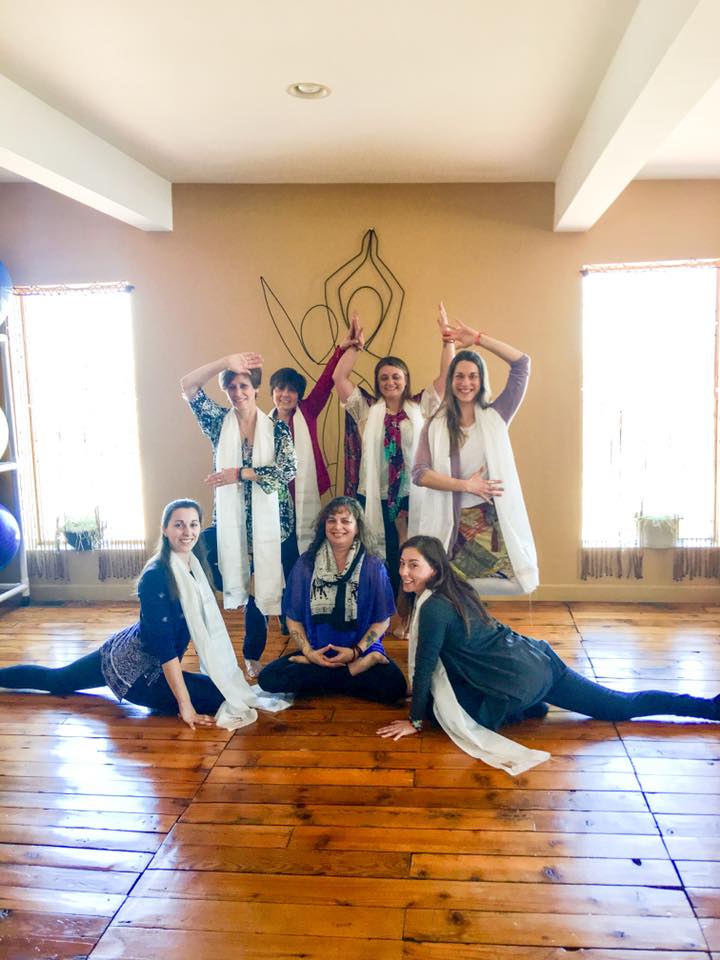 Nicole Hayman-Sherman, YACEP ( Yoga Alliance Continuing Education Provider.)
Nicole Offers regular CEU classes and workshops as well as additional trainings for Certified yoga teachers through the Yoga Alliance.  Please follow the link below, or contact JBYS's studio office for details or to sign up.
**Master class:explore the chakras for yoga students & teachers (20 hrs)
Class Meets Monthly, Each Month Explore a Different Chakra.
TAKE A JOURNEY THROUGH THE ENERGY CENTERS OF THE BODY AKA. YOUR CHAKRAS.
In this Chakra 101 series participants will take an intellectual exploration through the Chakra System, which is made up of 7 major Chakras in the body. Each class will include an in-depth look at the basics of each: discovering where it is located, what each Chakra signifies, finding imbalance and how to work on balancing. This series will include some yoga, meditation, pranayama (breath control) and more. Additionally, we will explore the Chakras across around the world. Please bring a yoga mat & a journal. (5-person minimum required, class max is 15)
April 13th-Introduction to the Chakra System
May 11th-Muladhara or Root Chakra
Jun 8th-Svadhisthana or 2nd Chakra
July 13th-Manipura or Solar Plexus
August 17th-Anahata or Heart Chakra
September 7th-Vissudha or Throat Chakra
October 12th-Ajna or 3rd eye & Sahasrara or Crown Chakra
Hours are 1-3pm each of the days listed.
Upon completion, participants will receive a certificate which can be presented to the Yoga Alliance for CEUs. 
Class taught by Nicole Hayman-Sherman E-RYT 500, YACEP.